Want your message on video?
As a communication tool
or social content
For quick and effective communications
Great quality, easy
and affordable!
Welcome to


3 easy steps to a great and affordable video
Could your organization use some quality video material? We produce great, competitively priced videos – and fast – for all your internal and external communication needs. So, let's get started!
Your own video in 3 simple steps
How can we help you?
Choose one of our three packages.
Complete the online briefing form.
We get to work right away.
Choose
Choose a package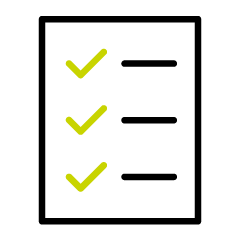 Brief
Complete the brief
Go!
We create your video
Quality
Professional videos created by an expert production team. Perfect picture, great lighting and crystal-clear audio.
Easy
Video production and editing is what we do. All you have to do is tell us what you'd like – simple! Your video is ready in just a few days.
Affordable
Transparent pricing and affordable packages. You know exactly what it's going to cost. Only value for your money.
Three packages
How can we make you happy?
Already have video content?

—


We do the edit!

Editing – 8 hours
2 revision rounds
Music
Filming on location?

—


We'll come to you!

Video shoot – 2 hours
1 videographer
Editing – 6 hours
2 revision rounds
Music
Everything from A to Z?

—


We can do it all!

Video shoot – 4 hours
1 videographer
1 producer
Editing – 8 hours
2 revision rounds
Music
Our portfolio
Here's a selection from our video production catalogue to give you some inspiration:
Use video to boost your job market communications?
Good quality, fast and affordable? Is that really possible?
Yes, we certainly think it is. With our parent company, Moviebites, we have an extensive network of professionals with the best equipment, covering all of the Netherlands. And we have more than 15 years' experience in producing quality video material for a wide range of clients. Check our portfolio and find out for yourself.
For what kind of films is the 123film concept best suited?
123film is the number one choice when it comes to rapid news distribution in the business services sector: internal updates for inhouse staff, newsflashes on social media, etc. To put it simply: short videos with a clear message.
Examples of relevant types of video content include:
instructie-, vlog-, uitleg-, vacature-, referentie-, bedrijfs-, corona-instructie-, wervings-, product-, promotie-, trailer, corporate-, how-to-, interne communicatie, nieuws-, locatie-, PowerPoint-, persoonlijke, social content, bedrijfspresentatie -, informatieve – of een andere korte video.
How fast can 123film start work for us?
We're always available, and we cover the entire Netherlands. Just tell us where and when you need us, and we'll be there! Our team of experienced professionals is organized to ensure we can be there and start work as quickly as possible.
Considering more videos in the future?
We have some great subscription options if you're planning to make videos on a regular basis. If you would like to know more, Take a look at our value packages or let us know via productie@123film.nl, and we'll get in touch to discuss the possibilities.
Does 123film handle larger video productions?
We certainly do. 123film is a Moviebites' brand and Moviebites has everything that's essential for successful video marketing. We handle all kinds of videos, from business films and commercials, as wells as providing animation, graphic design and more.